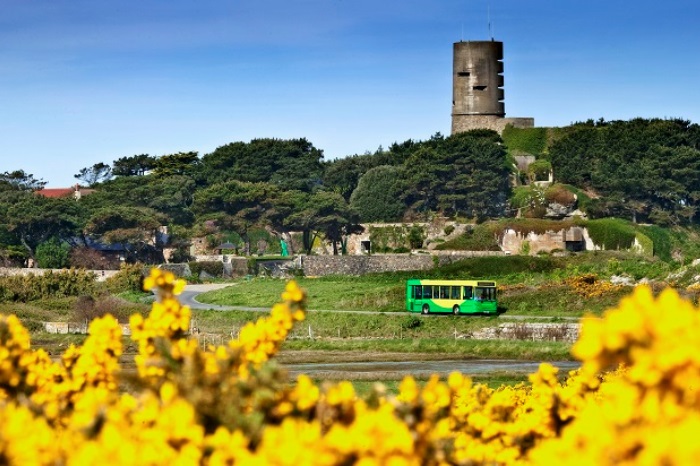 The cash fare below came into operation on 11 June 2014.

Single Fare
A flat fare of £1 will apply to all journeys of any distance on all routes.
One child for each fare-paying adult is carried free without a seat up to their fifth birthday, after which the normal flat fare applies.
Buying your ticket

You can get tickets on the bus, at the Town Terminus Kiosk, Guernsey Tourist Information Centre and Guernsey Airport.
Some hotels may sell paper VOUCHERS. Hotels are not able to sell the prepared travel passes (these include the 7 day adult and 7 day family passes). Please call 700456 if you are unsure.
Travel passes
Our range of unlimited travel passes, introduced on 12 May 2013, are great for exploring all Guernsey has to offer
One day pass: £4.50
Two day pass: £7.50
Seven day pass: £16.00
Family One day pass: £9.00
Family Two day pass: £15.00
Family Seven day pass: £38.00
Family passes allow unlimited travel for up to two adults and up to three children up to 16 years old travelling together.
Discounted fares for regular travellers

In November 2015 puffinpass was launched. The first product available is the Pay As You Go card. This is initially bought from the Kiosk at the Town terminus for £15, with top-ups possible in multiples of £5.
Journeys on the puffinpass cost 55p in the day and £2 after 10pm on Friday and Saturday.

From Saturday June 20 2015 the Ormer card products were discontinued. An exchange programme followed for a year. Exchange is no longer possible of the old style Ormer card.

You can find out more about the range of products by calling 01481 700456. The full terms and conditions for the puffinpass here.

Free travel for Guernsey residents over 65

People over the age of 65 who are residents of Guernsey, Alderney or Herm can travel free on buses if they show the driver suitable identification, such as their medical insurance card. This does not apply to older people visiting the Island.
Travel for young people

Children under 5 years of age can travel free of charge when accompanied by a responsible person.

Children in full time education can apply for a student puffinpass, giving free independent travel on all routes, except the late night services (from 2200hrs)
Our full terms and conditions of carriage can be found here.